CISDI intelligence transforming Baowu Zhanjiang
Date:2019/12/13 Source: CISDI
As the scientific and technological revolution led by intelligent manufacturing enters a new phase, CISDI is focussed on developing more intelligence-driven innovations.
Thanks to its 60-year industrial database and expertise, the company has already developed a series of impressive intelligent products.
A number of intelligent products were devised for the transformation of Zhanjiang Steel, a large steel plant in China's Guangdong Province.
CISDI contributed master-plan solutions and enabled the success of its green and intelligent projects.
Since its startup in 2016, Zhanjiang has become one of the world's most competitive green, intelligent and high-quality steel plants.
Intelligent water centralised control centre: an energy saver and ZLD
The CISDI-built intelligent water centralised control centre started up in October 2019.
Dozens of isolated water systems and 160,000 points of data across the plant have now been integrated into the centre's big data platform. Centralised controls for plant-wide water systems and the unit procedure's circulating water system, which is on a massive scale and covers long distances, can be controlled from one operation room.
Information flows throughout all water links – water preparation, supply and transport, circulation, waste water drainage, treatment and recycling are interconnected.
Because each production plant's water information is seamlessly interfaced, communication between operators is now more efficient and closed-loop controls among machines are being achieved on the trans-system platform.
Water supply and demand has been optimised. The entire steel plant's water resources are managed more efficiently and products costs have been reduced.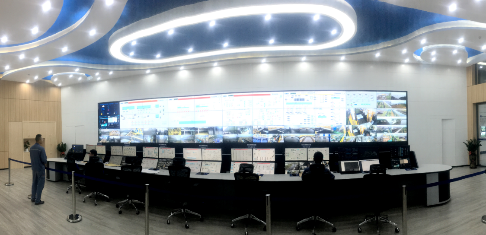 Zhanjiang Steel's intelligent water centralised control centre, built by CISDI
Highly intelligent stockyard: 10-15% less space needed
Zhanjiang Steel's stockyard Phase I covers an area of 1.011 million square metres and has an annual receiving capacity of 35 million tonnes.
CISDI supplied stockyard Phase I and its intelligent operations and is now supplying Phase II, which is under construction and features new model-D and model-C stockyards. CISDI will implement engineering software design and development for the model-C stockyard.
Overall intelligent operations and integrated control have been achieved at Zhanjiang. 85 per cent fewer operators are needed for stacking and reclaiming work. There is now a 30 per cent higher availability of stacker-reclaimer units and 10 to 15 per cent less space is needed for general storage. The mis-operation ratio has been reduced by 90 per cent.
Stockyard production highlights:
1) Substantial reduction of workforce
2) Remarkable increase in overall efficiency
3) Far greater operational safety
4) A smoother and more stable production
5) Savings on operation costs
6) Less energy consumption
7) Fewer losses from equipment idling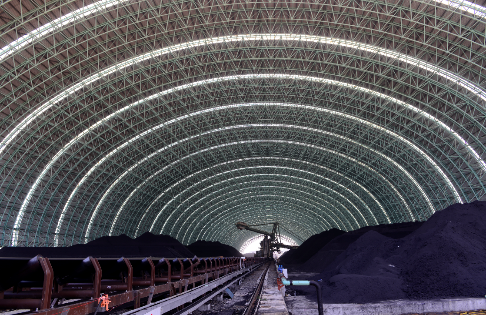 Zhanjiang Steel's eco-friendly, intelligent coal stockyard, designed by CISDI
Intelligent autonomous locomotive: reducing energy consumption by 5-10%
With an unmanned drive system at its core, the AI and IoT expertise applied to CISDI's intelligent autonomous locomotive for hot metal transport enables environmental perception, intelligent scheduling and equipment support and features digital twin and big data analysis systems.
Zhanjiang's all-weather, full-process unmanned locomotive system has been in operation since July.
At a steelworks with an annual production capacity of 8 million tonnes, CISDI's intelligent autonomous locomotive will create following results:
1) A 70% reduction in workforce costs
2) A 12.5% improvement in equipment availability
3) A 5-10% reduction on overall energy consumption
4) Zero personal injury rates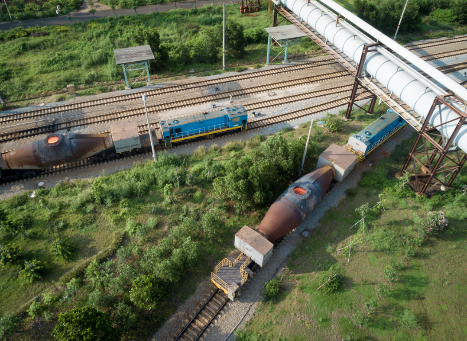 CISDI's autonomous locomotive, loaded with hot metal, traverses the railway crossing from ironmaking plant to steelmaking at Zhanjiang Steel
Intelligent all-weather, manpower-reduced wharf: 50% more efficient
CISDI has transformed Zhanjiang Steel's conventional wharf to one featuring intelligent operations which runs with reduced manpower.
Operators no longer have to work with heavy loads in poor and unsafe conditions; two intelligent port machines are driverless. Coils are automatically lifted and handled and the wharf is smartly controlled.
Stably running, the intelligent wharf has seen a 50% increase in workforce efficiency and has achieved 98 per cent of availability with manpower-reduced operations.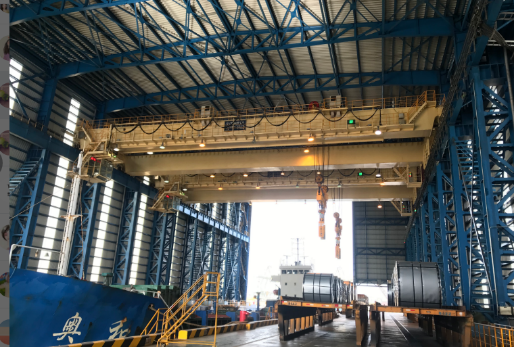 Zhanjiang Steel's all-weather wharf is now working intelligently and autonomously
Smart traffic: 80% heavy automobile throughput rate achieved
A smart traffic control system went online in April.
Co-built by CISDI and Zhanjiang Steel, the system has applied model algorithm and IoT expertise and interconnects logistics, automobiles and traffic lights and is set to reach Industry 4.0 standard.
After running for four months, heavy automobile turnover rate has been increased by 10 per cent and average fuel consumption has been reduced by 0.004 litres per tonne of transport.
Heavy automobiles can be given priority at intersections with traffic lights. Priority throughput rate has exceeded design requirements of 80 per cent.
As a result, the steel plant's productivity has improved the energy consumption and operation costs have been reduced.