Company Profile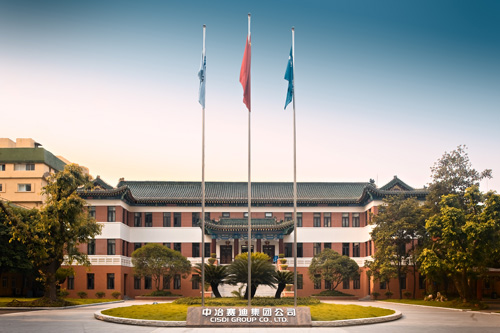 CISDI Group Co., Ltd. (hereinafter referred to as CISDI) is one of the core subsidiaries of MCC under China Minmetals, the Fortune Global 500. CISDI is committed to basic research and development of the application technology and is an expert provider for total solutions, consulting, engineering, package supply and turnkey, whole process engineering consulting, core equipment manufacturing and operations management.
Headquartered in Chongqing, CISDI has opened 20-plus subsidiaries across the globe, with more than 4,000 staff. Certified with Grade A comprehensive engineering and through a wide range of project references and presence in the global cooperation, CISDI enjoys an influential brand in steel industry.
Engineers accounting for 80 percent of the total staff, CISDI is home to the national design master and national supervision master and municipal survey and engineering master, and has a pool of 44 experts treated with the State Council's special subsidies and of more than 700 occupationally-certified awardees.
CISDI was transformed from Chongqing General Iron and Steel Design Institute. Its first establishment was in 1958 and born for China's steel industry and modernisation.
Pioneer and backbone for the national steels over the past 61 years, CISDI has contributed remarkably to formation of an independent and complete industrial system and has been an important booster for China's steel modernisation to rank in the world-class steel giants. CISDI is a lead to realising China's steel engineering and technology from an importer to an exporter.
In China's New Era, CISDI shoulders a mission of a pacesetter for metallurgical construction and operations and focuses on intelligent and digital developments facing China's steel supply-side structural reform and the global manufacturing trend.
Led by consulting, CISDI's total solutions expertise embraces restructuring, upgrading, intelligent and green manufacturing, and gives impetus to the development and application of the new process, new technology, new material and new manufacturing method.
CISDI has undertaken the general design, engineering and construction for Baosteel Zhanjiang – a benchmark of China's advanced manufacturing and supply-side structural reform.
An active player on the Belt and Road Initiative route, CISDI has built Formosa Ha Tinh Steel in Vietnam – China's first export of a 10-million-tonne Greenfield steelworks' system engineering and full industry chain, and ASSB in Malaysia – a game-changing international cooperation on production capacity for the 21st-century Maritime Silk Road. The state-of-the-art package supplies and Chinese standards have staged on the overseas arena with the energetic, massive and high-level industry-chain exports.
CISDI has served 80 percent of the global top 50 steel producers. In an endeavor to promoting international cooperation of production capacity and equipment, CISDI has successfully practiced China's green and win-win development concepts.
Integrating the industrial internet of things, mobile internet, big data, artificial intelligence and 5G with the conventional engineering, CISDI has given full display of her 5-pronged intelligent capability system and empowered the economy by deepening fusion of intelligence and big data with the real economy and composing the new eco-industry and enabling innovative services to industry, urban and rural revitalisation.
CISDI is a spearhead of industrial intelligence – has built Baosteel Shaogang's intelligent upstream-blast furnace control center, the first of its kind for China's most modernised steel manufacturing. CISDI-developed smart construction cloud has been successfully applied to over 1,000 project sites across China including the Olympic Winter Games Beijing 2022. CISDI-initiated farm produce production-sales platform for public good has been online operating well across China.
Consistent in efforts to high-quality development, CISDI has built a national engineering research center and 10-plus ministerial and provincial research centers. Among her 40-strong national scientific and technological awards, 13 are national technological achievements, 3 national technological inventions and innovations, and 10 national major equipment achievements. CISDI has more than 2,700 patents and is an editor-in-charge or participator of 204 national and industrial standards and codes and 9 international standards.
Spoken highly by the society and clients, CISDI has been honoured for the top 100 national survey and design enterprises, China's 100 excellent enterprises in electronic information and top 100 enterprises in software income, China's top 60 EPC-based and engineering enterprises and the national IPR demo enterprise. CISDI has been prized with deliveries of national high-quality projects, green building innovations and steel structures, and been awarded with Luban prizes for top-quality construction projects and Zhantianyou civil engineering prizes, totaling over 100 on the highest national or industrial levels.
Upholding "creating values by intellectual efforts", CISDI has made proactive commitments to be the world's leading steel engineering services provider, intelligent full life-cycle services lead and expert urban construction solution provider. Performer of technology, CISDI is ready to support you in pioneering the future of metals production and achieving an all-win result with her global clients and partners in the trail ahead blazed for industrial intelligence and greener, leaner developments.
Service sector: consulting, steel engineering, information technology and intelligent applications, urban construction, energy conservation and environmental protection
Business scope: total solutions, consulting, E-, EP- and EPC-based contracting, engineering consulting, operations management
Address: No.1 Shuanggang Road, Yuzhong District, Chongqing 400013, P. R. China
Tel.: +86 23 6354 8131
Fax: +86 23 6354 8888